Book Review: Sword of Destiny (The Witcher Saga, #0.7) by Andrzej Sapkowski
Book Review: Sword of Destiny (The Witcher Saga, #0.7) by Andrzej Sapkowski
Sword of Destiny by Andrzej Sapkowski
My rating: 2.5 of 5 stars
Series: The Witcher (Book #0.7 of 5)
Genre: Fantasy, Epic Fantasy, High Fantasy
Pages: 384 pages (Kindle Edition)
Published: 19th May 2015 by Orbit Books
---
Sword of Destiny is a huge step down from The Last Wish.
I'll be lying if I say I'm not worried about how I'll fare with the series after reading Sword of Destiny. I have heard many mixed things regarding the main novels of the series, especially in its ending, but tons of praises seem to have been given to the first two collections of short stories. I fully understand that technically this is Sapkowski's first published collection of stories in The Witcher Saga even though it chronologically takes place after The Last Wish. But still, I expected more out of it because I enjoyed reading The Last Wish, and of course, I love the video games adaptation so much. However, I felt so mixed about this collection of short stories.

"There is never a second opportunity to make a first impression."
Unlike The Last Wish, there doesn't seem to be a coherent sense of continuity between the stories contained in this collection. It is six short stories put into this book. In The Last Wish, in the present time frame, we have Geralt recovering, and the content told in this time frame chapters reflects the short story we will get to read. Everything felt more random and fragmented in Sword of Destiny. But that, in essence, IS what a collection of short stories mean. What caused my mixed feelings on Sword of Destiny was due to my dislike of the first four out of six short stories here. And I can't even claim that I loved the last two titles; they were alright, but not amazing.
Picture: Sword of Destiny by Navar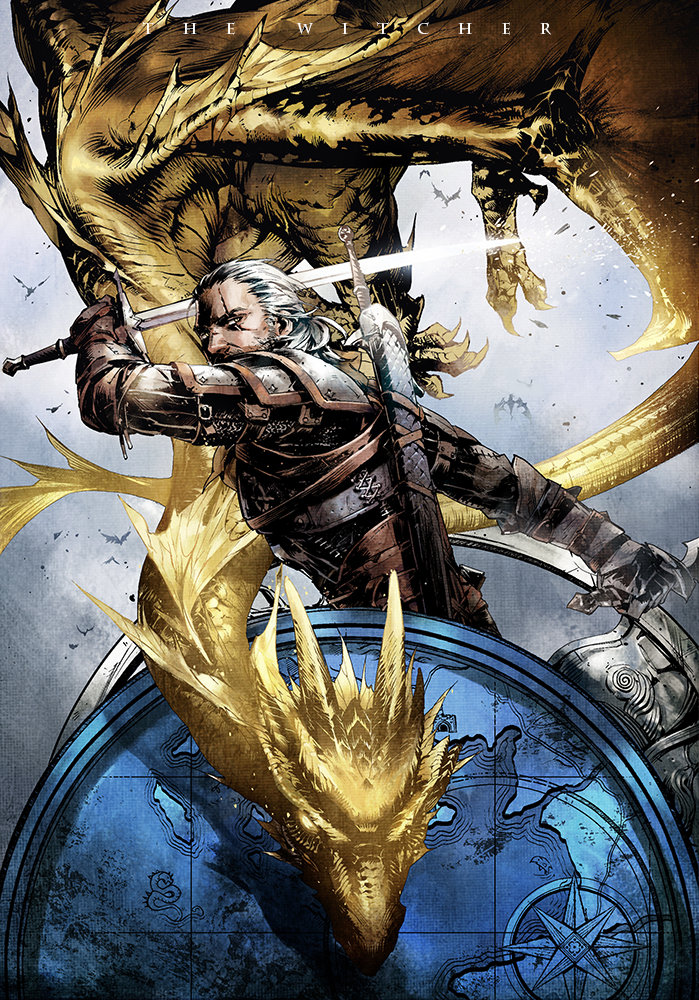 Let's start with the first two short stories: The Bounds of Reason and A Shard of Ice. Although these two were not boring to read, they were also frustrating. The main point of these two stories is simple: Geralt and Yennifer fight like teenage YA characters. Coming into this book from the games and the TV show adaptation, it actually felt cringe to read their bickering and flings. I need to note, and I know this will sound like sacrilege, that I am not a fan of Yennifer. Not in the games, and certainly not in the books so far. Honestly, I dislike her even more now after reading A Shard of Ice. But at least that's expected.
The third short story, Eternal Fire, on top of being one of the most boring stories I have read, somehow, has also made me incredibly dislike Dandelion. Dandelion in Eternal Fire has a mouth of an intolerable Donald Duck here. Yabbering, yabbering, yabbering, like we have to pay attention to this pitiful guy. I like Dandelion in the TV show adaptation and the games, but here? Nope. Seriously, a few days have passed since I read this short story, and all I remember now is only him being infuriating.
"Well, what can I say, it's a base world,' he finally muttered. 'But that's no reason for us all to become despicable."
A Little Sacrifice was okay, but the development and the conclusion of the character stories here felt rushed. It would have benefited more for not being a short story. And finally we arrive at the last two short stories: Sword of Destiny and Something More. We finally meet Ciri in the books for the first time in the titular title, Sword of Destiny. I liked this one. Ciri is one of my favorite characters in the games, and I am happy I get to see Geralt and Ciri's first moment of encounter. As for Something More, I feel the TV show adaptation did a better job on this part of the story. I still enjoyed reading the ending of this story, but overall, I feel like the execution in the TV show has more of an impact on me than this one.

"Because I know that in order to unite two people, destiny is insufficient. Something more is necessary than destiny."
I am disappointed with Sword of Destiny, and hearing how many fans of the series hated the last book made me more reluctant to continue reading it. However, I will try to read one or two books in the main novels first before I finalize my decision. There's always a chance that Sword of Destiny is a one-time occurrence disappointment. Here's hoping that I will love Blood of Elves when I get to it this year.
---
You can order this book from: Blackwells (Free International shipping)
I also have a Booktube channel
Special thanks to my Patrons on Patreon for giving me extra support towards my passion for reading and reviewing!
My Patrons: Alfred, Andrew, Andrew W, Amanda, Annabeth, Ben, Diana, Dylan, Edward, Elias, Ellen, Ellis, Gary, Hamad, Helen, Jimmy Nutts, Joie, Luis, Lufi, Melinda, Meryl, Mike, Miracle, Neeraja, Nicholas, Oliver, Reno, Samuel, Sarah, Sarah, Scott, Shawna, Xero, Wendy, Wick, Zoe.