Book Review: The Fall (The Bound and the Broken, #0.5) by Ryan Cahill
Book Review: The Fall (The Bound and the Broken, #0.5) by Ryan Cahill
Cover art designed by: Books Covered
The Fall by Ryan Cahill
My rating: 4 of 5 stars
Series: The Bound and the Broken (Book #0.5 of 4)
Genre: Fantasy, High Fantasy, Epic Fantasy
Pages: 95 pages
Published: 1st November 2020 by Ryan Cahill (Self-published)
---
Wow. I can't believe this great novella is available for FREE on the author's website.
If you're diligent in searching for fantasy books on Amazon, it's quite likely that you've seen the name Ryan Cahill popping up lately. His debut, Of Blood and Fire, has been trending on Amazon for months. As usual, though, when I start a series, I will more often than not read in publication order. And that's why I started with The Fall first. What I didn't expect, however, was how packed and compelling this novella would be.

"The duty of the strong is to protect the weak."
The entire story of The Fall takes place in the year 2682 after Doom; 400 years before the events in Of Blood and Fire begins. It takes place in the City of Ilnaen, and this single destructive event is told through the perspective of four main characters. The Fall isn't a big book; it's only 95 pages long, and it's incredibly action-packed. The danger of writing an action-packed novella, usually, is there aren't enough characterizations to make readers care for their struggle. But Cahill was able to efficiently establish why the four POV characters are involved in this event. Alvira, Kallinvar, Coren, and Eltoar; four of them has different reason and motivation to participate in this war, and I was able to feel invested in this relatively short stories about justice, loyalty, and freedom.

"Pain is the path to strength."
I don't want to ramble on too long for this review; the book is short enough already. But I need to praise just one more thing. Cahill was able to successfully infuse enough world-building elements to make this fantasy work intriguing, especially as an appetizer for his main series. There's Soulblade, elemental/blood magic, and also a lot of dragons and Dragonbound. Cahill's prose is accessible, and his actions felt vivid in my mind.

Picture: Kallinvar by Aron Cahill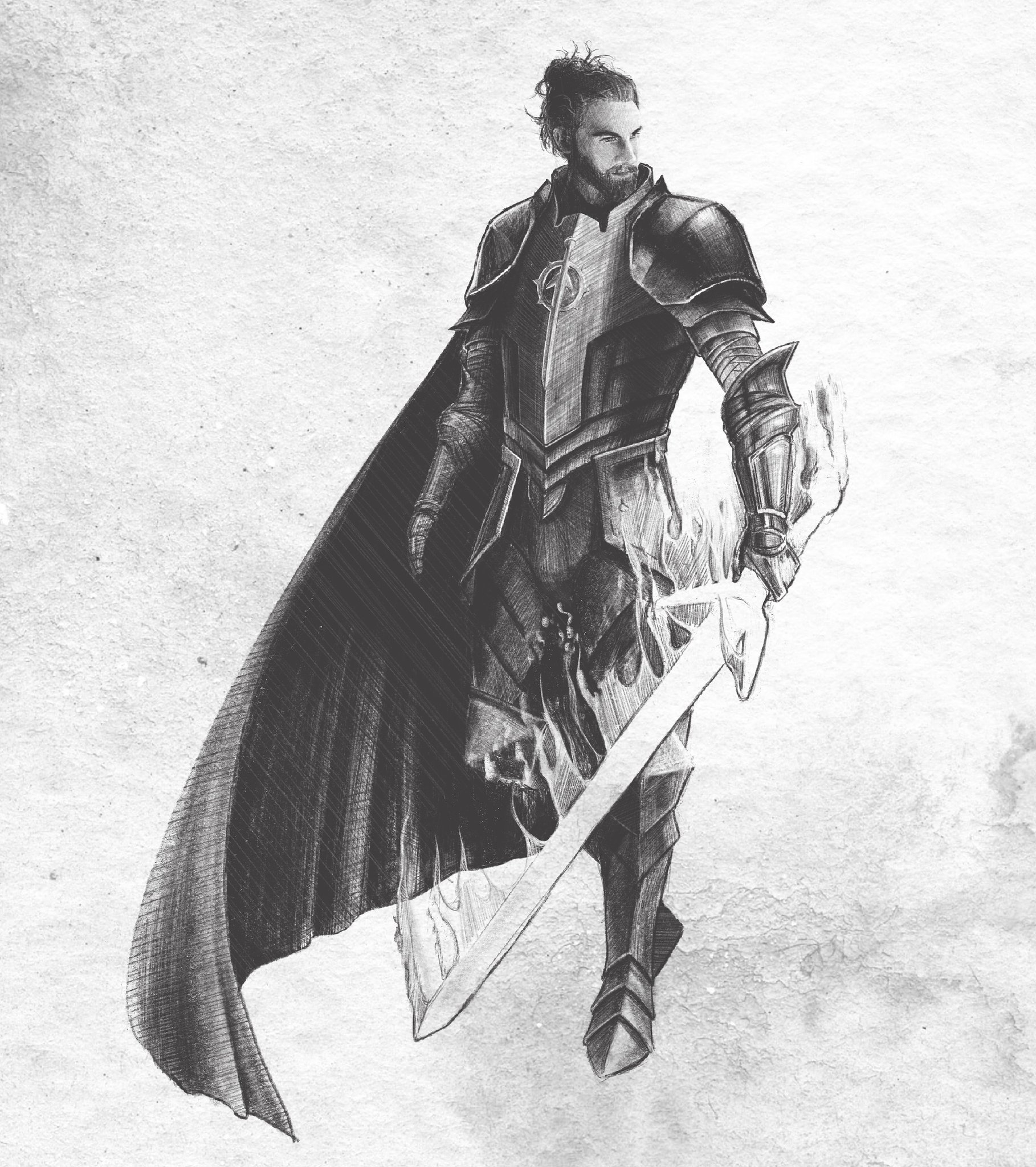 Yes, the physical edition of The Fall has two interior artworks. The Fall is a great novella. Not only it managed to tell a pulse-pounding story in such a short length, but it also successfully Sparked (see what I did there?) my interest to read the main series. Definitely sooner than later. Once again, you can get this novella for free from the author's website. Do it!

"All great things require sacrifice."
---
I also have a Booktube channel
Special thanks to my Patrons on Patreon for giving me extra support towards my passion for reading and reviewing!

My Patrons: Alfred, Andrew, Annabeth, Ben, Blaise, Diana, Dylan, Edward, Element, Ellen, Gary, Hamad, Helen, Hunter, Jimmy Nutts, Jennifer, Joie, Luis, Lufi, Melinda, Meryl, Mike, Miracle, Neeraja, Nicholas, Samuel, Sarah, Sarah, Shaad, Xero, Wendy, Wick, Zoe.