Book Review: The Angel's Game (The Cemetery of Forgotten Books, #2) by Carlos Ruiz Zafon
Book Review: The Angel's Game (The Cemetery of Forgotten Books, #2) by Carlos Ruiz Zafon
The Angel's Game by Carlos Ruiz Zafón
My rating: 4.5 of 5 stars
Series: The Cemetery of Forgotten Books (Book #2 of 4)
Genre: Historical fiction, Mystery
Pages: 673 pages (US Kindle edition)
Translated Edition Published: 2009 by Weidenfield & Nicholson, Orion Books (UK) & 2009 by Doubleday (US)
---
The Angel's Game is another incredible book by Carlos Ruiz Zafón. It's as good as The Shadow of the Wind in a different way.
More than a month has passed since I finished reading The Shadow of the Wind that enthralled me, and not gonna lie, I had an inkling of dropping the series after continuously hearing from so many people that the continuations aren't really worth the read. I can't say about The Prisoner of Heaven because I haven't read it yet, but The Angel's Game, in my opinion, was definitely worth the read.

"Every book has a soul, the soul of the person who wrote it and the soul of those who read it and dream about it."
I'm honestly quite shocked by the significant drop in average ratings for The Angel's Game, the second installment in The Cemetery of Forgotten Books quartet by Carlos Ruiz Zafón, on Goodreads. It is indeed a different kind of book than its predecessor, there's no more story within a story, no more coming-of-age, and the story itself takes place before the events that occurred in The Shadow of the Wind. However, Zafón did retain sufficient elements that made the first book superb into his narrative here, and I do believe that The Angel's Game has the alluring storytelling capability that the first book has. The themes in The Angel's Game focuses more on writing, ambition, faith, loneliness, found family, and the dark side of humanity. The story has a gothic horror feels to it; it is bleaker, and it's definitely more depressing than the first book. This, however, doesn't mean a drop in storytelling quality, Zafón's prose (plus Lucia Graves' translation) never fails to captivate me. This is a hefty book; it's almost 700 pages long, and I never felt bored reading it.

"Every work of art is aggressive, Isabella. And every artist's life is a small war or a large one, beginning with oneself and one's limitations. To achieve anything you must first have ambition and then talent, knowledge, and finally the opportunity."
The characterizations of the main character, David Martin, and the individuals he met—especially Isabella and Sempere family—along his journey were so well-done. Do note that David Martin isn't a complete kind-hearted person like the protagonist of the previous book, Daniel Sempere, who's very easy to get attached to. David is cynical, he sometimes treats people horribly, and he lives a relatively harsher life compared to Daniel. Unlike Daniel who's accompanied by his dad and Fermin, David's life is one of loneliness and strings of bad lucks. I found his struggle to find love and companions offers a look—a darker one—into a life of hardship that many people encounter in real life. The complexity of David's journey drew me into the story thoroughly; he may not always be likable, but there's a strong sense of consistency in his character development that I enjoyed reading. Also, although you can read this book without reading The Shadow of the Wind first, the meaning behind the appearance of the Sempere & Sons bookshop would lose its effect.

"I stepped into the bookshop and breathed in that perfume of paper and magic that strangely no one had ever thought of bottling."
Another thing that I found to be awesome was the changes in tone. The Angel's Game takes place in the same location as The Shadow of the Wind, and I loved how Zafón made sure that a different time-period would give a different kind of atmosphere. The Shadow of the Wind, to me, felt more melancholic, at times tragic, but sprinkled with hope and heartwarming friendship. The city of Barcelona portrayed in The Angel's Game felt, as I mentioned before, bleak and depressive.
Picture: The Angel's Game by Vincent Chong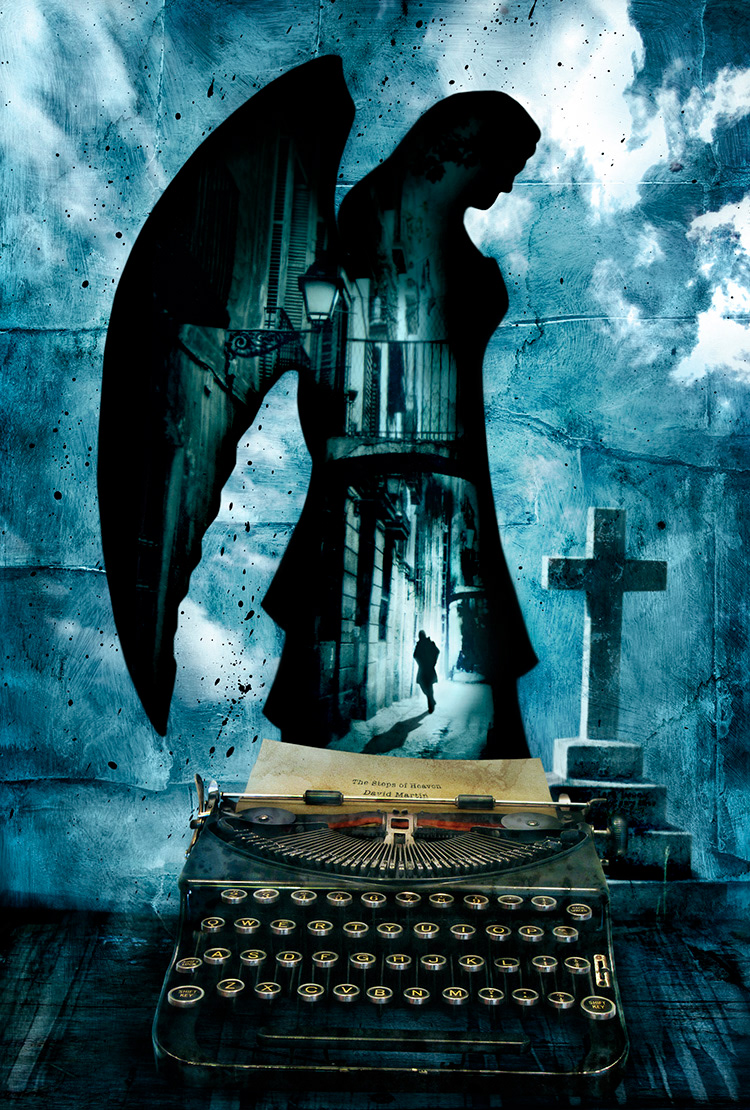 I know I've mentioned in my previous review, but seriously, reading this series makes me want to visit Barcelona. I want to see the places mentioned, that still exists, in this book with my own eyes and find out what kind of feelings will be sparked in me. Although the story told in The Angel's Game felt like it's a different kind of book compared to The Shadow of the Wind at times, I must once again praise Zafón's astounding prose and Graves' translation. I'm getting repetitive here, but the two books in the series that I've read so far are embedded with countless quotable passages, and I'm sure the remaining two books in the series will follow the same treatment. Just look at this passage about envy below:

"Envy is the religion of the mediocre. It comforts them, it soothes their worries, and finally it rots their souls, allowing them to justify their meanness and their greed until they believe these to be virtues. Such people are convinced that the doors of heaven will be opened only to poor wretches like themselves who go through life without leaving any trace but their threadbare attempts to belittle others and to exclude – and destroy if possible – those who, by the simple fact of their existence, show up their own poorness of spirit, mind, and guts. Blessed be the one at whom the fools bark, because his soul will never belong to them."
Isn't that just so well-written? And there's still so many more I haven't shared yet on this review.
As to what prevented me from giving this book a full 5 stars rating, the climax sequences ended a bit unsatisfyingly for me. The Shadow of the Wind felt and worked totally well as a standalone; the conflicts have been resolved, revelations were unveiled, and the book ended very satisfyingly. The climax sequences in The Angel's Game felt messy and quite convoluted to me. Plus, the ending itself raises more questions—I assume these will be answered in the remaining two books—than answer them, and it left me feeling slightly unsatisfied upon finishing.

"Whether we realise it or not, most of us define ourselves by opposing rather than by favouring something or someone. To put it another way, it is easier to react than to act."
The good thing about the conclusion, though, is that finishing The Angel's Game certainly makes me so excited to start reading the next installment ASAP. It took me more than a month break after reading The Shadow of the Wind before I decided to finally pick this up, I doubt it would that long before I dive into the next book, The Prisoner of Heaven. The Angel's Game is a dark, thrilling, and gripping installment in The Cemetery of Forgotten Books series. For a series outside my favorite genre—fantasy—to read, this has been a crazy and twisted ride that I highly enjoyed so far, and I look forward to finding out how the story will develop from here.

"We spend a good part of our lives dreaming, especially when we're awake."
---
You can order the book from: Book Depository (Free shipping)
Special thanks to my Patrons on Patreon for giving me extra support towards my passion for reading and reviewing!
My Patrons: Alfred, Devin, Hamad, Joie, Mike, Miracle, Nicholas.