Book Review: Ghost Story (The Dresden Files, #13) by Jim Butcher
Book Review: Ghost Story (The Dresden Files, #13) by Jim Butcher
I have a Booktube channel now! Subscribe here: https://www.youtube.com/channel/UCRjh…
Cover illustration by: Chris McGrath
Ghost Story by Jim Butcher
My rating: 4 of 5 stars
Series: The Dresden Files (Book #13 of 25)
Genre: Fantasy, Urban Fantasy
Pages: 608 pages (US Kindle edition)
Published: 28th July 2011 by Orbit (UK) & 26th July 2011 by Roc (US)
---
Ghost Story feels like a volume to reboot the series before it enter a new story arc, or the next season, in the life of Harry Dresden.

"It was never too late to learn something. The past is unalterable in any event. The future is the only thing we can change. Learning the lessons of the past is the only way to shape the present and the future."
It is not an easy task to write a follow-up to Changes, and I have a slightly pessimistic outlook on how Butcher will write a single installment for the series that's as good—or better—as Changes. I've heard spectacular things about Skin Game, though, so I'll be keeping my hopeful heart in check for that one. As for this book, I've heard a lot of discouraging things about Ghost Story from fans of the series, some even called it THE worst book of the series, and that terrified me because Fool Moon—the second book in the series—almost pushed me off from continuing with the series. I shudder at the thought of reading a book in the series that's more inferior than that. But as it turns out, I found that Ghost Story was still pretty good.

"I always considered myself a loner.

I mean, not like a poor-me, Byron-esque, I-should-have-brought-a-swimming-buddy loner. I mean the sort of person who doesn't feel too upset about the prospect of a weekend spent seeing no one, and reading good books on the couch. It wasn't like I was a people hater or anything. I enjoyed activities and the company of friends. But they were a side dish. I always thought I would be happy without them."
I do think it's understandable, though, why some readers found Ghost Story, the thirteenth book in the series, so disappointing. Although murder mystery and whodunit were still at the essence of the plotline, Ghost Story felt like a different kind of book, whether that's for good or worse, it's up to you to decide. After all the destruction that happened at the end of Changes, it's not a surprise that the focus on this book is targeted towards Molly, Murphy, and the side characters more than Harry. I did enjoy reading Harry's background with Justin DuMorne very much, but it was Harry's feelings towards his companions and vice versa that really made the book for me.

"Doing nothing is difficult. Once you aren't busy, your head starts chewing things over. Dark, bleak thoughts appear. You start to think about what your life means."
Ghost Story featured a lot of introspective moments, and I loved it. As I repeatedly said, more than the action scenes and practically everything else in the series, I love The Dresden Files for the characters and the continuous—though relatively slow—progress in their development. The action scenes in this book, unlike Changes, unfortunately, returned to that "too long for its own good" phase. The revelation behind the murder mystery was done well, in my opinion, but the actions that led up to it became quite boring quickly.

"Courage is about learning how to function despite the fear, to put aside your instincts to run or give in completely to the anger born from fear. Courage is about using your brain and your heart when every cell of your body is screaming at your to fight or flee – and then following through on what you believe is the right thing to do."
I highly enjoyed reading Ghost Story. Although the tone of the book was the bleakest so far, the narrative was filled with heartfelt, sad, and at the same time, hopeful moments to counter it. Feel free to ignore my criticisms of the longevity of the action scenes; it is a recurring issue for me with this series, and I have a good feeling I'm on a very unpopular opinion side on this notion. Argh, I can't believe I only have three—soon to be four—published books in the series to read. I am both excited and sad. I will embrace Cold Days within the next two weeks!

"Pain isn't a lot of fun, at least not for most folks, but it is utterly unique to life. Pain — physical, emotional, and otherwise — is the shadow cast by everything you want out of life, the alternative to the result you were hoping for, and the inevitable creator of strength. From the pain of our failures we learn to be better, stronger, greater than what we were before. Pain is there to tell us when we've done something badly—it's a teacher, a guide, one that is always there to both warn us of our limitations and challenge us to overcome them.

For something no one likes, pain does us a whole hell of a lot of good."
Picture: Ghost Story by Vincent Chong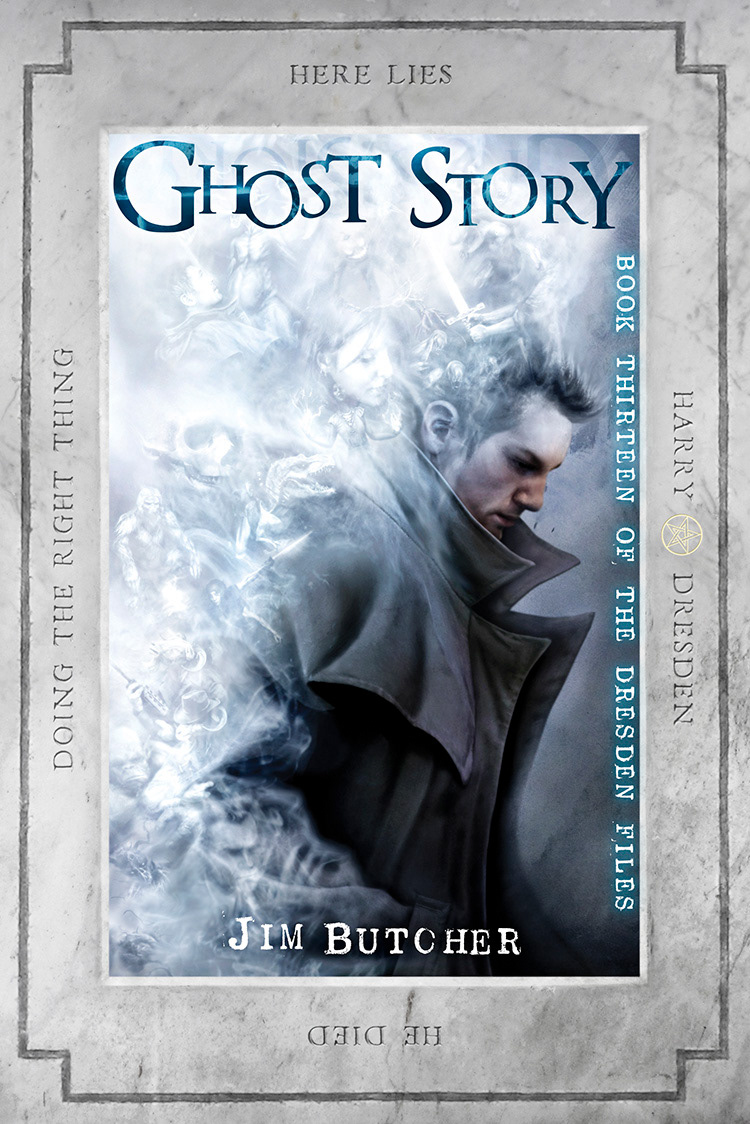 ---
You can order the book from: Book Depository (Free shipping) | Bookshop (Support Local Bookstores!)
Special thanks to my Patrons on Patreon for giving me extra support towards my passion for reading and reviewing!
My Patrons: Alfred, Alya, Annabeth, Devin, Diana, Hamad, Jimmy Nutts, Joie, Michelle, Mike, Miracle, Nicholas, Zoe.