Book Review: Death Masks (The Dresden Files, #5) by Jim Butcher
Book Review: Death Masks (The Dresden Files, #5) by Jim Butcher
Death Masks by Jim Butcher
My rating: 4 of 5 stars
Series: The Dresden Files (Book #5 of 25)
Genre: Fantasy, Urban Fantasy
Pages: 464 pages (US Kindle edition)
Published: 4th March 2010 by Orbit (UK) & 5th August 2003 by Roc (US)
---
Harry Dresden need some sleep, and he's not getting one easily.
Harry Dresden has a duel with the Red Court of Vampire's Champion who wants to kill him at all cost, professional hitmen are using him as target practice, but that's not all, Harry also needs to seek the missing Shroud of Turin while fighting all the new villains. All of these conflicts are brought to Harry Dresden within the first quarter of the novel; it's safe to say that Death Masks, the fifth book in The Dresden Files series, is the most action-packed installment in the series so far. And to make things even crazier, the frantic situations won't allow Harry to sleep. This poor wizard just can't catch a break.

"Sleep is God. Go worship."
It's incredible how Butcher gradually expanded the world-building and cast of characters in this series. With each new installment in the series, there's always something new being added and learned. The previous book, Summer Knight, focuses more on introducing the Faeries and Harry's godmother, Death Masks introduces another group of villains that may truly be the overarching big boss of the series: Nicodemus and The Denarians—a group of fallen angels that have their souls attached to the thirty coins that Judas took to betray Jesus Christ, and they seek human hosts. Yes, that means there are thirty Denarians. I found this to be such an intriguing concept, and although some action sequences felt a bit too long for its own good, every scene in Death Masks that involved an encounter/battle with The Denarians was tense and page-turning.
Picture: One of the Denarians. Art by Vincent Chong.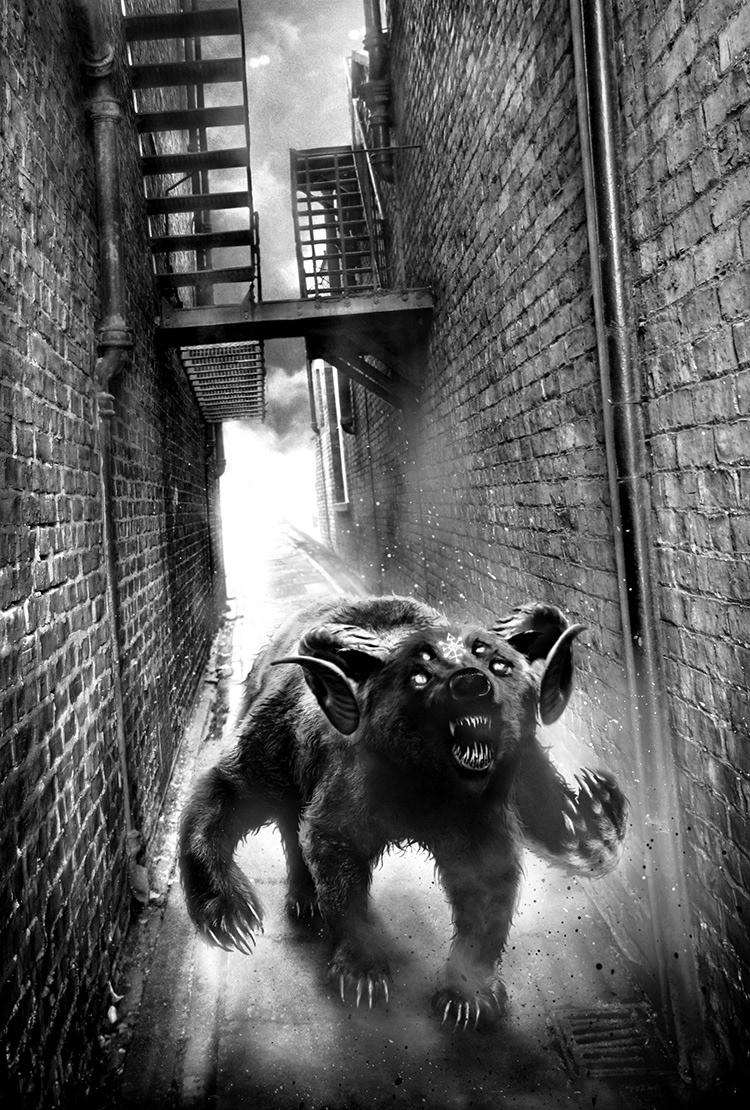 As the number of baddies that Harry has to fight grew, the group of protagonists also received additional characters. Shiro and Sanya are new characters that appeared here, and with this book alone, I have become attached to them. And my favorite side character from the series so far, Michael Carpenter, makes a return once again; he didn't appear in Summer Knight. Michael is such a great character to root for; he's kind-hearted, faithful, protective, and loyal. I find his friendship with Harry, despite their differences in faith and personality, to be very wholesome.

"It's one of the things that makes us different than they are, Harry. The blood on their hands does not make it right to bloody my own. My choices are measured against my own soul. Not against the stains on theirs."
There are an understanding and trust between these two, and the same can also be said with Harry's friendship with Murphy. It's unbelievable, in a good way, that this is the same Murphy from the first two books. Butcher didn't get the right balance in portraying her personality in the first two books in my opinion; she was always angry in the early books, with almost no sense of trust towards Harry at all. To be fair, the same can be said for Harry as his chauvinist plus narcissistic attitude in the early books can indeed be testing to anyone's patience. Now, they have become more and more acquainted with each other's behavior, and none of these character's development never felt forced. I mean, even Marcone developed in a way that made me empathize with him a bit. That's something I didn't think would ever happen.

"It isn't good to hold on too hard to the past. You can't spend your whole life looking back. Not even when you can't see what lies ahead. All you can do is keep on keeping on, and try to believe that tomorrow will be what it should be—even if it isn't what you expected."
In addition to the action-packed nature of the book, Death Masks is at its core a great book about choices, responsibility, and doing your best in every possible circumstance. There isn't much else to say here except that, once again, this is another entertaining read and I look forward to reading the next installment soon.
Picture: Death Masks by Vincent Chong
---
You can order the book from: Book Depository (Free shipping)
Special thanks to my Patrons on Patreon for giving me extra support towards my passion for reading and reviewing!
My Patrons: Alfred, Devin, Hamad, Joie, Mike, Miracle, Nicholas.